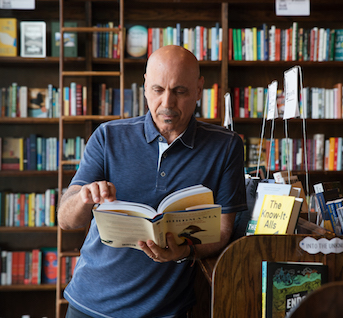 Andy Shallal Busboys and Poets– Founder and CEO
Anas "Andy" Shallal is an artist, activist and restaurateur who established Busboys and Poets in Washington DC in 2005 as a community where racial and cultural connections are consciously uplifted. The cultural hub is a place to take a deliberate pause and feed your mind, body and soul; a space for art, culture and politics to intentionally collide.
Busboys and Poets has also been at the forefront of environmental stewardship being one of the first businesses in Washington DC to be 100% wind powered and are at the cutting edge of the local/sustainable food movement winning many awards and recognitions locally and nationally. Shallal has received numerous awards including the Mayor's Arts Award, Employer of the Year from the Employment Justice Center, the Mayor's Environmental Award, and Martha's Table Community Leader Award.
Busboys and Poets is now located in seven distinctive neighborhoods in the Washington Metropolitan area where Shallal continues his work to create a more livable community.
Twitter: @andyshallal