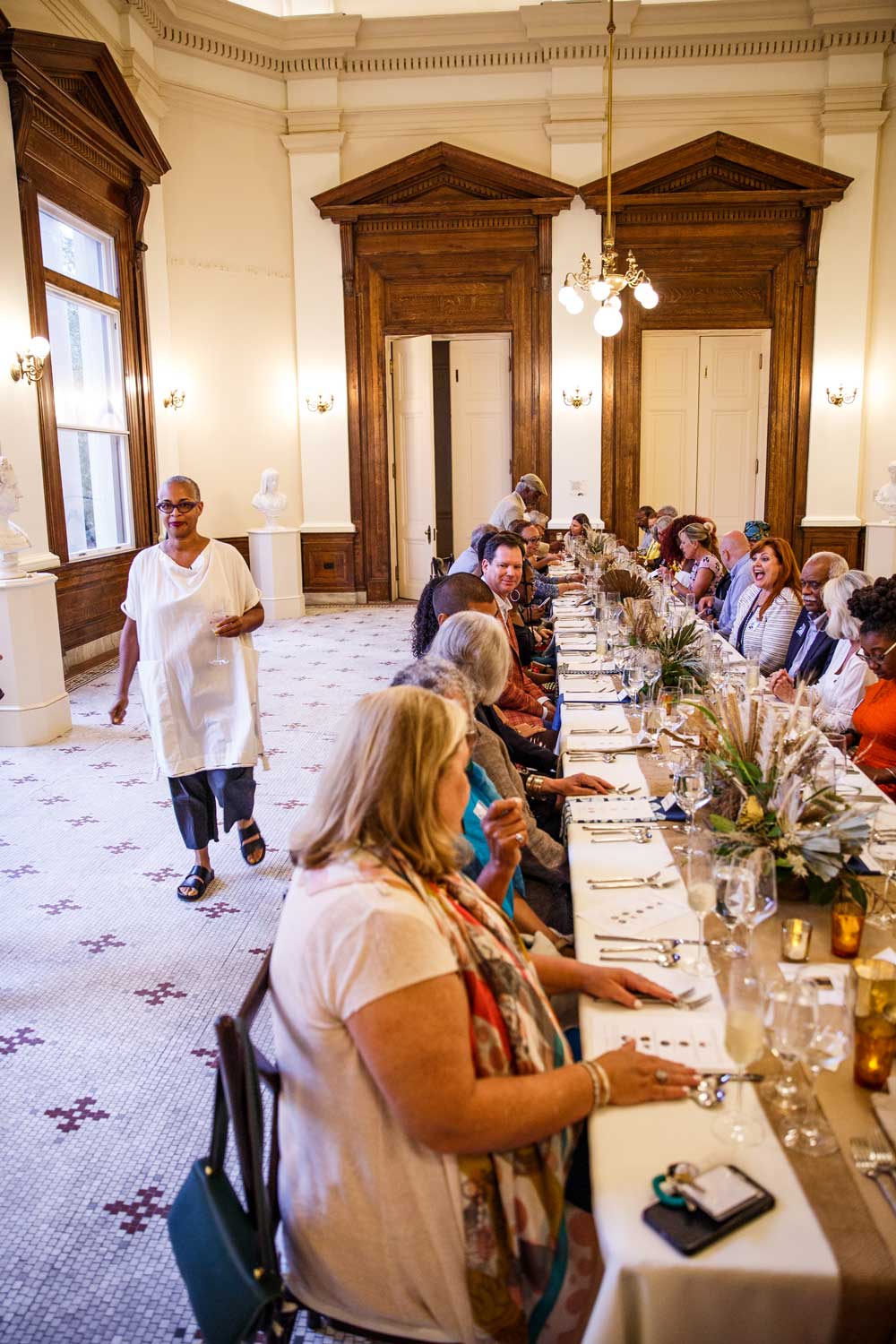 Tina L. Singleton Transformation Table – Founder
Commemorating the one-year anniversary of the massacre at Emanuel AME Church, where 9 parishioners were killed by a white supremacist, Bernice King, the daughter of Martin Luther King Jr., issued a challenge to the Charleston community: to fight hate by making meaningful efforts to really understand and love one another, despite all sorts of would-be dividing factors. She said we needed to get intimate. Her suggestion? "Go to each other's homes. Have dinner!" Tina L. Singleton took up that challenge and created Transformation Table. Over a meal prepared by a local global chef, the initiative creates space among strangers to come together, to hear each other's stories, where open, candid, and nonjudgmental conversation reigns. It's an opportunity to break down barriers, stereotypes and assumptions we may have about each other. In addition to home-based dinners, Tina has create dinner party conversation spaces for museums and nonprofit organizations. 
Her appreciation for world views and perspectives different from her own, including a love for global cuisine – a cornerstone of the Transformation Table experience – comes from twenty years living and working abroad as an advisor on disability and inclusive development. This work took Tina to more than 15 countries, including Bangladesh, Sierra Leone, Libya, and most recently, Afghanistan.
Tina has been featured on numerous local, state and national media outlets, such as Edible Charleston Magazine, Organic Life Magazine, and The Today Show. She was included in the Emmy award winning program, Food for the Soul, and is a writer and TEDx Charleston speaker. Tina was honored to receive the Peace & Dialogue Award from the Atlantic Institute, as well as a Spot Light Award, in honor of Susie Jackson, one of the parishioners killed in the Mother Emanuel AME tragedy.
In addition to leading Transformation Table, Tina is also director of programs at YWCA Greater Charleston, where she oversees the organization's women's empowerment and racial equity programs. She serves on the Commission on Women in Charleston and is also a member of the city's Special Commission on Equity, Inclusion, and Racial Conciliation. Tina lives on Johns Island, SC. 
Tina looks forward to a time when we are able to gather around the table again  – sans social distancing. 
Facebook: @transformationtable